Concert setlist :
1, Gliding Like A Whale
2, Idle Flow
3, Piece of You
4, Give What He's Got
5, Emergency Unit
6, I'll Fall With Your Knife
7, Deep Ocean Vast Sea
8, Disappearing
9, The Line Between The Devil's Teeth (And That Which Cannot Be Repeat)
10, Huuvola - w/ Sarah Fimm
11, Thelma Sings To Little Nell
12, The Weight of Love
13, The Sweetest Drop
14, A Strange Kind Of Love
15, Indigo Eyes
16, Cuts You Up
17, The First Stone
19, Hit Song
Shared the stage with:
Sarah Fimm - support act
Photos: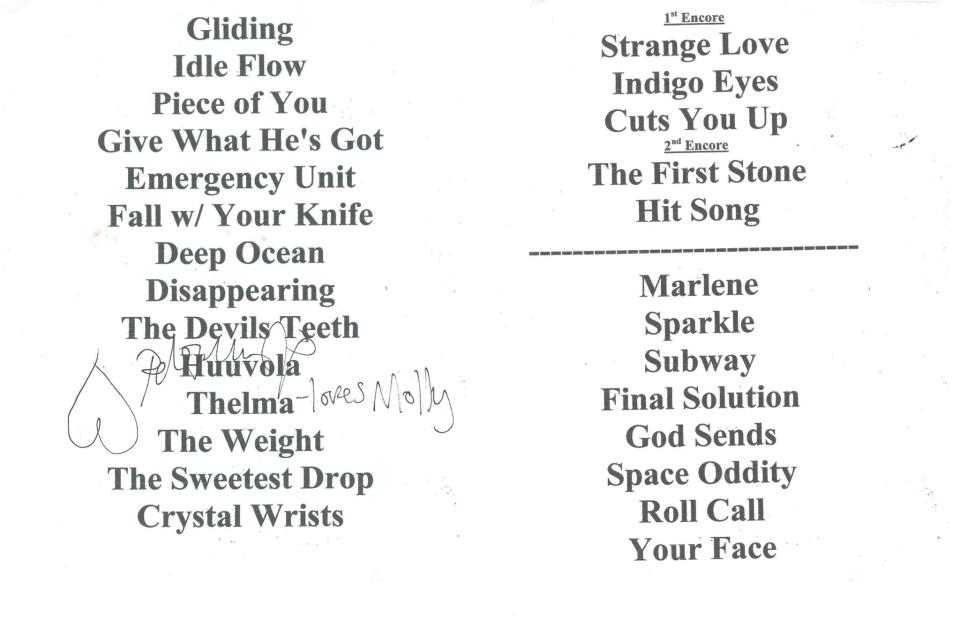 Thanks to Molly Jones
« PREV 1 / 1 NEXT »
Attenders:
mollyred

People who have audio recordings:
Hapcibeno, ziggyswoon

People who have video recordings:
nobody have it...

Comments:
no comments yet ...
Please log in to add comments.
| | |
| --- | --- |
| | | v1.2 created by Hapcibeno 2009 | Facebook | Sources & Thanks | Login | | | |