Concert setlist :
1, Intro - Party of The First Part - ????
2, Bela Lugosi's Dead
3, In The Flat Field
4, Silent Hedges
5, In Fear of Fear
6, Of Lillies And Remains
7, Swing The Heartache
8, Hair of The Dog
9, Watch That Grandad Go
10, Spirit
11, The Three Shadows Part II.
12, Kick In The Eye
13, Third Uncle
14, Hollow Hills
15, Stigmata Martyr
16, Dark Entries
17, Ziggy Stardust
Shared the stage with:
Musical Youth - support band
Southern Death Cult - support band
Photos: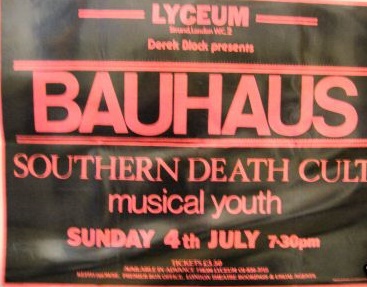 Thanks to Hauskeeper
« PREV 1 / 2 NEXT »
Attenders:
HAUSKEEPER

People who have audio recordings:
akiforhair, architektur, Hapcibeno, HAUSKEEPER, ziggyswoon

People who have video recordings:
nobody have it...

Comments:
2009-11-29 00:41:14 - HAUSKEEPER

This show was to make up for the cancelation of the second night of the Adelphi.  
It was another fantastic Bauhaus evening, I remember it being pretty frantic down the front,lots of scuffles and fights breaking out.... it got so bad that towards the end the security guys just stayed down the front.
I can't remember that much about the actual show, third uncle was refreshing and I remember hearing "watch that grandad go" and not having a clue as to what it was.

I think this period was a bit of a turning point for the old fans, the band had been on TV quite a few times, done a few radio sessions and the new type of Bauhaus fans had started to show up at gigs. 
I remember seeing the Siouxsie sioux and Robert Smith look-alikes turning up around the time of the Old Vic show. By the time they played the Adelphi and the Lyceum they were there in force. 
Those that went down the front to get close to the band just wanted a spot to stand and stare. I think thats why all the scuffles broke out at this gig. 
If you wanted to stand and stare at Bauhaus, down the front at the Lyceum wasn't the place to do it.
Please log in to add comments.
| | |
| --- | --- |
| | | v1.2 created by Hapcibeno 2009 | Facebook | Sources & Thanks | Login | | | |