Concert setlist :
1, Intro - Satori
2, The Passion of Lovers
3, In The Flat Field
4, Boys
5, Poison Pen
6, Kick In The Eye
7, A God In An Alcove
8, Rosegarden Funeral of Sores
9, Muscle In Plastic
10, Hollow Hills
11, Stigmata Martyr
12, Dark Entries
13, Bela Lugosi's Dead
Shared the stage with:
Subway Sect - support band
The Birthday Party - support band
Photos: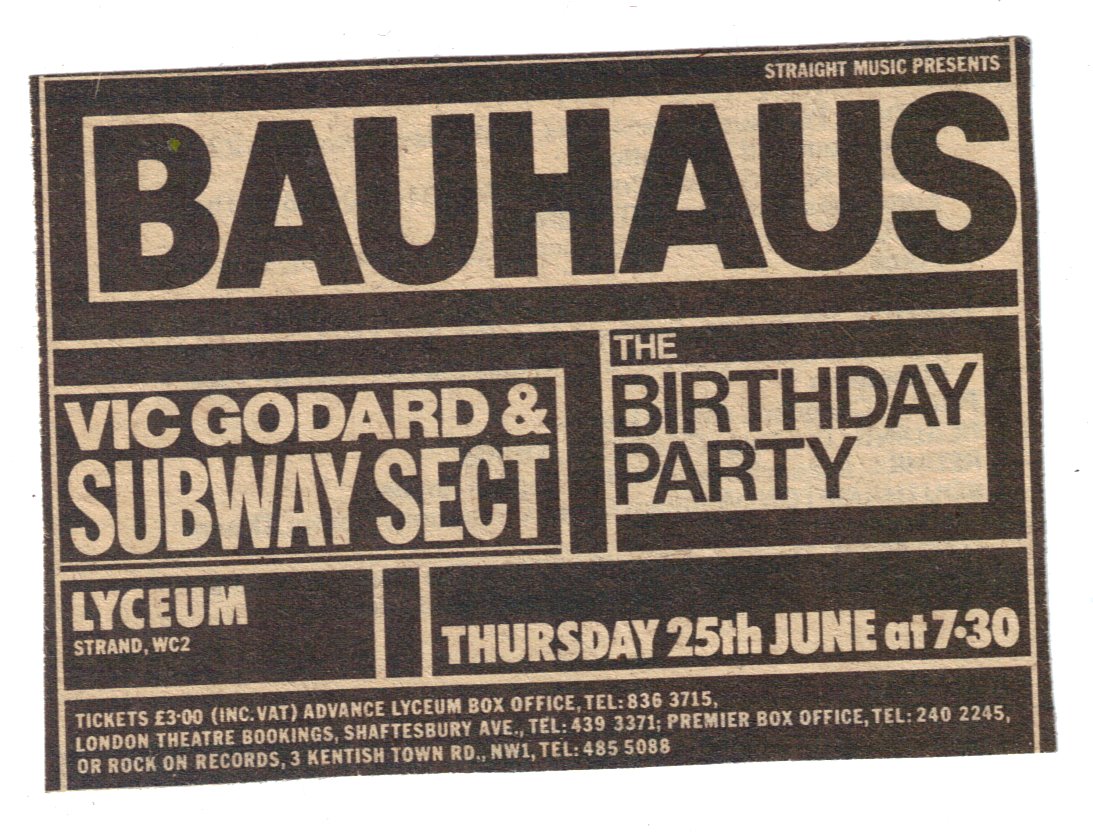 Thanks to Hauskeeper
« PREV 1 / 3 NEXT »
Attenders:
HAUSKEEPER

People who have audio recordings:
Hapcibeno, HAUSKEEPER

People who have video recordings:
nobody have it...

Comments:
2009-11-28 17:38:57 - HAUSKEEPER

One of the best Bauhaus shows I saw, it was their first time headling at the Lyceum. The Lyceum back then was definately the best venue to go see a live band at in London.
I remember the place being packed with punks, the Birthday Party were brilliant and played a great set. Bauhaus came out and blew them away, they were stunning, pete was all over the stage. I remember he came out for the encore wearing this huge hat with feathers on it, he was making all these funny remarks throughout the show taking the piss alot.
It was a great night, the Lyceum and Jenkinsons (Brighton) were both great, definatly the best shows I saw on the Passion Tour.
2010-01-27 09:03:04 - system

The Birthday Party setlist
1, King Ink
2, Release The Bats
3, Zoo-Music Girl
4, The Friend Catcher
5, Blast Off
6, Pleasure Heads Must Burn
7, Nick The Stripper
8, A Dead Song
9, Catman
10,Cry
Please log in to add comments.
| | |
| --- | --- |
| | | v1.2 created by Hapcibeno 2009 | Facebook | Sources & Thanks | Login | | | |