Concert setlist (incomplete):
1, Ball of Confusion
2, So Alive
3, Use Me
4, No New Tale To Tell
5, Mirror People
Photos: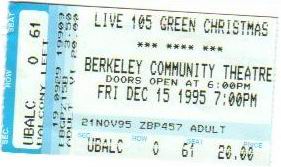 Thanks to strangelets
« PREV 1 / 1 NEXT »
Attenders:
strangelets

People who have audio recordings:
Hapcibeno

People who have video recordings:
nobody have it...

Comments:
2009-11-16 16:51:12 - strangelets

My first L&R concert. It was a Christmas concert for a local radio station and there were a lot of bands so the sets were short, but L&R was BY FAR the best band on the bill.
Please log in to add comments.
| | |
| --- | --- |
| | | v1.2 created by Hapcibeno 2009 | Facebook | Sources & Thanks | Login | | | |